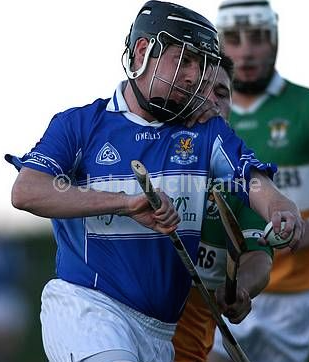 Gerard Cunningham started playing senior hurling at the young age of 16.  Those younger days are now a long time ago as he is now the oldest player on the team.  After training on Thursday we decided to catch up with Gerard and ask him a few questions.  Cutt is the first member of the team to give an interview but we hope to interview a few more of the lads in the coming weeks, watch this space.
Name: Gerard Cunningham
Age: 32
Occupation: Compliance Advisor in Bank of Ireland
How long have you played for St Johns?
From I was 5; this is my 16th year playing senior hurling.
Greatest achievement with club? Still waiting on it – only won the Nipper Quinn and Minor of the Year so they hardly count 😉
What is your best personal moment in hurling career?
Probably winning my first Ulster Senior Final
Who is the toughest / hardest player you have come up against or played with?
Andrew O'Shaughnessy Limerick (scored hattrick on me)
Most talented player you have played against or with?
Brian McFall
Who is your favorite player of all time?
Ciaran Carey – Limerick
Which teammate is the worst for missing training?
Donal Quinn – Sometimes think he went back to Rossa
Who is the quickest in the team?
Me closely followed by Jimmy
Who is the slowest? 
Kevy Mullan or Homer its close
What music are you listening to at the minute?
Always listening to Stereophonics or Mumford & Sons
All time favorite movie?
All Rocky Films but Rocky 2 is probably favorite
What is your no 1 goal before you retire?
Obviously the answer is to win a Senior Hurling Championship but I would be happy with us putting in a good performance that we are capable of, as we could beat any team if we hurl to our potential but we just haven't done that as yet
Above: Gerard Cutt (far right) in his younger days representing Antrim
Above: Cutt being given a warning before the ball is thrown in