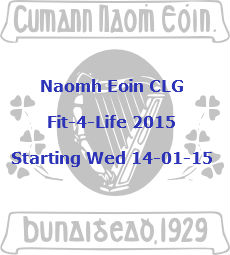 Make your household a happier place because you have energy!!! Our next 10 week fitness programme begins again Wednesday 14th January 2015:
Wednesdays 7pm-8pm (Note new starting time)
Saturdays 10am-11am
Sundays 10am-11am
Wednesdays = circuits as detailed below, Saturdays = outdoor (weather permitting) with walk/run/jog activities to increase fitness with the use of equipment such as stretch bands, kettle bells, skipping ropes and Sundays = Spin cycles……..for beginners, followed by body toning using equipment such as boxing gloves + pads, weights, kettle bells,
The cost is still £5 for all 3 sessions. Encourage others to come with you and quickly they will become motivated through the excellent skills of the tutor Laura McCann. The average number at every session of the previous 12week programme was 15-20. It is an enjoyable hour and you go away feeling really good about yourself and over the weeks you will get fit!
Circuit Program:
Exercises through circuits which maximize the volume of work done in a short period (suited to all levels of fitness)
Circuit training is a great tool for weight loss, muscle gain + increasing strength.
Circuit training with Laura is guaranteed to be action packed and FUN!
We are running this as a stand-alone class for anyone who wants to get fit after Christmas but cannot commit to the 3 day programme.
The cost is £3 per session…Anyone doing the 3 day programme will still only be charged £5 for all 3 sessions